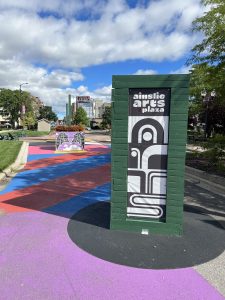 The new Chicago public spot Ainslie Arts Plaza near the Lincoln Avenue McDonald's where Ainslie, Western, and Lincoln cross, featured picnic areas with colorful tables, vibrantly painted planters, and mosaic street mural.  It was opened on May 21, 2021, and was designed to be an open public space where people can connect in person.  According to the Lincoln Square Ravenswood Chamber of Commerce's announcement, the Ainslie Arts Plaza is a "tactical urbanism at work," and turned an underused location into "a pedestrian plaza with seating, newly installed landscaping and lights, and a street mural painted by artist Andrea Jablonski."  Although it seems a lot of planning had gone into its décor, one thing that was lacking was planning for pedestrian safety.   The plaza did not have any protection for  pedestrians from errant vehicles.
Recently a woman speeding southeast on Lincoln Avenue at around 11:30 pm jumped the curb along Lincoln Avenue near the Ainslie Arts Plaza, lost control, crashed into the plaza, and demolished the furniture.  Thankfully, at that time people were not in the Plaza and only the driver suffered minor injuries.  Looking at the destruction caused by the crash, if there were pedestrians in the Plaza, people would have been seriously injured.   While comments from  Chicago officials show that they are sad and surprised at the turn of events, they should not be surprised.  It is foreseeable that an automobile driver may miss a curb, miss a turn, speed, and drive negligently.  The Chicago personal injury attorneys at Zneimer & Zneimer PC have seen many accidents where a driver drove negligently, jumped a curb, and crashed into a pedestrian, and are surprised that the design for this public plaza did not include pedestrian protection, since such lack of protection from out of control automobiles was previously litigated to the Illinois Supreme Court.
In 2006, in the case Marshall v. Burger King,222 Ill. 2d 422, 432 (2006), the Illinois Supreme Court was faced with the issue whether a Burger King  restaurant was liable for injuries as a result of a negligent driver who jumped the curb and crashed into the restaurant injuring its patrons.  The case arose when a driver in Rockford, Illinois, trying to drive out of a Burger King parking lot, backed into a lamppost, then drove forward, lost control of the car, hit the sidewalk near the Burger King, became airborne, and crashed through the brick wall and windows of the restaurant, fatally injuring a patron eating in the restaurant.  The estate of the decedent sued several parties, including Burger King.  The plaintiff argued that "no protective poles were built around the restaurant, the restaurant was " bricked up" only a few feet from the ground, the restaurant was located in an area with heavy traffic, and the restaurant's parking lot was located directly adjacent to its entrance and dining area," and that such precautions would have been a "minimal undertaking" for the restaurant.  Marshall v. Burger King Corp., 222 Ill. 2d 422, 432 (2006)
Burger King argued that it had no liability because such automobile accident was not foreseeable.  Burger King suggested that it "owed no duty to the decedent to protect him against the possibility of an out-of-control car penetrating the restaurant and injuring him," characterizing the incident as "highly extraordinary" and "tragically bizarre" and, "therefore, not reasonably foreseeable." Marshall v. Burger King Corp., 222 Ill. 2d at 431.
The Illinois Supreme Court disagreed, noting:  "Initially, we note that it is reasonably foreseeable, given the pervasiveness of automobiles, roadways, and parking lots, that business invitees will, from time to time, be placed at risk by automobile-related accidents." Marshall v. Burger King Corp., 222 Ill. 2d at 442.  Citing to the Restatement (Second) of Torts §344, the Illinois Supreme Court stated that the "plaintiff's complaint clearly falls within its purview, as it alleges that, based on the place and character of defendants' business, defendants had reason to know that the negligent conduct of third persons was likely to endanger defendants' customers."  Marshall v. Burger King Corp., 222 Ill. 2d at 445–46.  The Court specifically noted that the plaintiff's complaint alleged that the restaurant was located in an area with a "high traffic count"; that various aspects of its design, including its "brick half wall," and its sidewalk, render it susceptible to penetration by out-of-control automobiles; that defendants took no precautions, such as installing "vertical concrete pillars or poles," to prevent automobiles from entering the restaurant; and that defendants had knowledge of all of the foregoing."  Marshall v. Burger King Corp., 222 Ill. 2d at 445–46.
The City of Chicago plans on  ten more pedestrian plazas, including a skate rink throughout Chicago.  All the locations are close to major streets.  Given what happened at the Ainslie Arts Plaza, the City of Chicago must protect pedestrians because making a place beautiful is not enough: it also must be safe.
Our law firm represent pedestrians and bicyclists injured by automobiles.   With creation of unprotected bike lanes and pedestrian areas, injuries are likely to occur.  Currently at least one insurance company has a Declaratory Action before the Illinois Appellate Court, arguing that the insurance company's uninsured motorist policies should not cover pedestrians and bicyclists injured by uninsured drivers.  If the Appellate Court agrees with the insurance company, some injured people may look to the City of Chicago for liability.  The City of Chicago's effort to create more pleasant walkable areas is a good idea but creating such areas without safety in mind is dangerous and may be costly to the city and its contractors.
If you were injured in an accident and you need help, contact us online or call our office at 773-516-4100.  Our firm has extensive experience in such cases, including one where our firm authored an amicus brief that is pending before the Illinois Appellate Court, Carmen Galarza v. Direct Auto Insurance. As demonstrated by this case,  our attorneys believe that cyclists and pedestrians deserve a right to recovery.