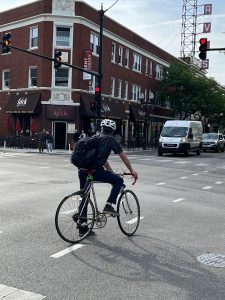 When bikers wear dark clothes, it's much harder for drivers to see the bicyclist, especially at night. This is because dark colors absorb light, while light colors reflect it. So, when a bicyclist wears dark clothes, they are basically blending in with the background, which makes it difficult for drivers to see a bicyclist coming.
The Chicago bicycle lawyers of Zneimer & Zneimer are aware of a peer-reviewed study that found that cyclists wearing dark clothing are more likely to be involved in a crash at night than cyclists wearing light clothing.  The study also found that not all reflective clothing or equipment works the same.  According to the study, "Drivers recognised more cyclists wearing the reflective vest plus reflectors (90%) than the reflective vest alone (50%), fluorescent vest (15%) or black clothing (2%). Older drivers recognised the cyclists less often than younger drivers (51% vs 27%). "  The study's findings suggest that "reflective ankle and knee markings are particularly valuable at night, while fluorescent clothing is not. Cyclists wearing fluorescent clothing may be at particular risk if they incorrectly believe themselves to be conspicuous to drivers at night."
Therefore, bicyclists who drive in the dark, should buy reflective ankle and knee markings at a minimum, in addition with reflective clothing.  Bicyclists should wear reflective clothing. Reflective materials help drivers see the bicyclists at night, even in low-light conditions.