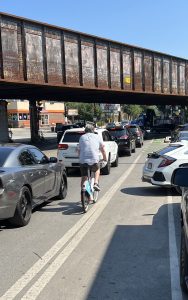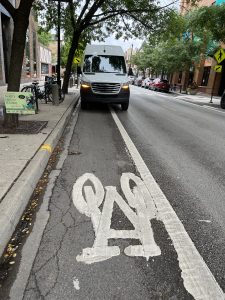 Chicago Andre Vasquez has proposed streamlining the process to have cars and trucks towed that are blocking a bike lane.  Alderman Vasquez commented that: "cars just don't care.  They're parking there, waiting there. double-parking there.  Even when we had the Department of Finance ticket them, they weren't moving.  By giving the Department of Finance the ability to tow them, it would incentivize people not to do it so they don't get their towed."
Additionally, the proposed ordinance would require signs to be posted that a bike lane will be closed 24 hours in advance whenever a permit is issued to do work that would close a bike lane.
The Alderman's proposal was in response to a tragic accident that occurred on June 9, 2022 where a mother on a bicycle with a toddler named Lily seated in a carrier was riding down Leland Avenue bike lane.  Lily's mother came upon a ComEd truck that was parked in the bike lane doing work.  Lily's mother attempted to steer around the truck parked in the bike lane and was forced to maneuver by a semi-truck.  The semi-truck began to move causing Lily's mother to lose her balance which caused Lily to be thrown to the roadway under the wheels of the semi.  Alderman Vasquez stated that he firmly believes that Lily would still be alive if his proposed ordinance were in affect at the time this incident occurred.