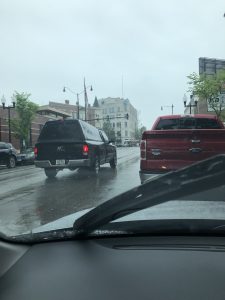 This springtime in Chicago has been the 8th rainiest year on record, according to WGN's Tom Skilling. Although that may be good news for the flowers, it can be dangerous for everyone else. A new study by the Bulletin of the American Meteorological Society found that the risk of fatal car crashes rises by 34%, the wetter the roads are.
Even a light drizzle raised the risk of crashes by 27%, the study found.  Scott Stevens and his team at the North Carolina Institute for Climate Studies reported that less than 1/10 of an inch accumulation of rain is enough to turn road conditions. Moderate rain boosts the chance of motor injury and fatality up to 75%, and heavy rain nearly doubles that to nearly 150%.
Stevens and his team looked at information from the 48 states in the continental U.S. and found that the risks especially increase during the morning rush hour, and in the winter months. Morning rush hour provides more congestion on the roads, and thus more opportunity for a crash.