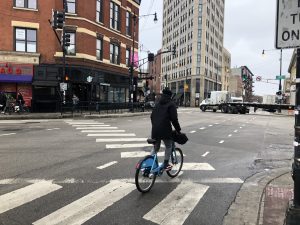 Biking advocates are pushing for the city to recommit to its goal to make biking safer after the recent deaths of three cyclists. Although Chicago has a reputation for bicycling and was named the top city for bicycling in 2016, the city has averaged 5.5 deaths of cyclists per year since 2012.
In 2012, the city adopted a plan to build more protected bike lanes across a 645-mile network of on-street bikeways by 2020. Although Chicago initially pursued this plan by building or upgrading 116.25 miles of bike lanes between 2012 to 2015, the pace of bike lane construction has fallen significantly. Since 2015, the city added merely 66.4 miles of bike lanes, and only 8.5 of those miles were protected. Yet in this time (from 2012 to 2018), 5.5 bicyclists were killed per year in the city.
In 2017, in the wake of a "right hook" incident where a bicyclist was killed after a truck that was traveling in the same direction turned in front of her and trapped her under the truck's wheels, bike advocates effectively lobbied city officials to pass an ordinance requiring the city's truck fleet to be equipped with convex mirrors and side guards – to prevent someone from falling under the truck's wheels – by 2026. This ordinance also requires trucks operated by companies with city contracts to implement these changes by 2021.