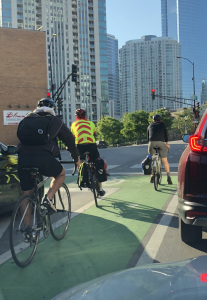 Calls for more accommodations towards cyclists are growing as more people commute from one point to another using their bikes. To simply assign blame to reckless motorists is myopic and inadequate; revamping the city of Chicago's streets will not only improve safety for cyclists, but will also induce people to drive less and bike more. Both Chicago Mayor Lori Lightfoot and Emmanuel Rahm have committed to supplementing the streets with 100 miles of protected bike lanes. A very noble goal that has yet to be fully realized.
Last November, Chicago bore witness to two fatal crashes involving cyclists. One occurred at a designated high crash corridor in Stony Island Avenue, involving 40 year old Lee Luellen and the other one killed 37-year old Carla Aiello who was struck by a right-turning motorist in Old Irving Park. Carla Aiello was biking on the heavily faded bike lane in Milwaukee Avenue, when the truck made an unlawful right turn and crushed her under his wheels. Personal injury attorneys at Zneimer & Zneimer P.C., know that these tragic deaths could have been prevented with the installation of protected bike lanes and safety bollards and even as simple as refreshing bikeway markings. Instead, the lack of funding, capable staff such as engineers at CDOT and the lack of cooperation between communities and IDOT have led to inaction and ultimately the deaths of Lee and Carla.
It is obvious that Chicago can and should do better. After all, a well-designed biking infrastructure if implemented properly. will promote equity, helping the neighborhoods that need it the most such as the communities on the South and West side. The Active Transportation Alliance has offered strategies to advocate for sustainable transportation will benefit these neighborhoods that are home to many designated high crash corridors. If the city acts now, families and loved ones would not have to bear such heartbreaking loss like that of Lee and Carla's.