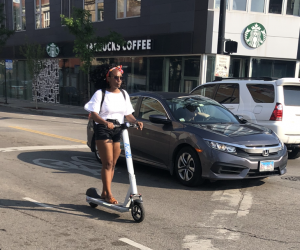 Electric scooters are making a comeback this year, returning to Chicago streets by the end of July or early August, despite pandemic constraints. These e-scooters were popular for the entire duration of its first pilot program last summer which basically saw the City of Chicago conducting its own trial on the merits of these emerging mobility alternatives. Competing companies include Lime and a newer vendor offering seated models, Veo will be appearing on the scene to give the top companies a run for their money. While there are polarizing results on Chicago's assessment on scooters based on equity and safety, there are real numbers as to injuries; of the 821, 615 rides taken in the course of four months in Chicago, 192 resulted in injuries.
While there were several reasons for giving e-scooters a second chance this summer such as to ease traffic congestion and encourage public transit ridership, the influx of e-scooters also produced a marked rise in injuries. Chicago Sun Times article reported the scooter injury rate among the general U.S. population climbed from 6 per 100,000 to 19 per 100,000. Dr. Adam Black of Amita Health Saints Mary and Elizabeth Medical Center has witnessed "some really ugly fractures" from e-scooter related crashes, even going so far as to estimate that the hospital was treating at least one scooter rider a day. This has not deterred many riders, but the danger e-scooters pose as well as dealing with the aftermath of injuries are real. It is after all not news that most e-scooters require riders to sign a waiver of sorts as delineated on their rental agreements in respective phone apps before they can fully access the e-scooter, practically relieving the companies of liability. This leaves a great deal of risk to be absorbed by the riders themselves.  Most insurance companies do not recognize e-scooters as vehicles because they have less than four wheels.   "State Farm offers a personal liability umbrella policy that the company said may cover an electric scooter driver's liability for damages they cause, but all claims are investigated based on their own merits. Allstate offers an umbrella policy to customers that have a qualifying auto or property insurance policy. The umbrella policy doesn't specifically state that it covers electric scooters in promotional materials, but there is a "recreational vehicles" category".  The lawyers of Zneimer and Zneimer P.C. note that it remains to be seen whether or not more insurance companies would offer coverage to minimize the burden on riders who will have to pay medical bills on their own.
There is a lot left to improve on in the safety side but the convenience of e-scooters definitely contribute to their popularity.