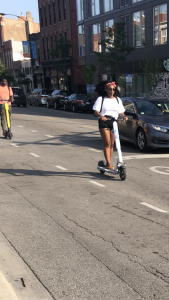 With 2,500 new dockless electric scooters, and countless first-time riders on the road, Chicago's new e-scooter pilot program has gotten off to a rocky start. In the first six days alone since the launch, at least ten people went to emergency rooms for scooter-related injuries, with two of these injuries requiring surgery.
These accidents, ranging from hit-and-runs to cyclist injuries, are a rising threat for people simply getting around in the 50-square-mile testing area outside of the Loop. However, A study by the CDC and the city of Austin, TX (another city in the e-scooter boom) found that 33% of scooter accidents happen during a rider's first time on a scooter. Another 30% of accidents occurred within the riders' first ten rides. The data out of Austin combined with the rainy weather during Chicago's pilot week is a recipe for deadlier accidents than ever. A 2011 study by the Bulletin of the American Meteorological Society found that the risk of fatal car crashes rises by 34%, the wetter the roads are.  The injury lawyers of Zneimer & Zneimer, P.C. urge everyone to exercise extra caution given that many first-time and new riders are getting their bearings in the direct line of traffic.
E-scooter riders are relegated to bike lanes, but lack of enforcement by the program vendors finds pedestrians dodging riders and side-stepping e-scooters left in the sidewalks and streets. The CDOT and partner vendors have distributed guidelines, via fliers, to communicate expectations of scooter use, with rules such as "We walk scooters on the sidewalk. We keep our eyes on the road. Be alert and pay attention. We wear helmets. We park scooters with care outside of sidewalk paths and by bike racks where possible. We ride in the bicycle lane. We obey all local traffic laws. They apply to us." However, once off the bicycle lane, the app-based leaves it up to riders to decide where to park the scooters after use.
E-scooter use is only growing. Over 70 cities in the United States have seen the boom of the electric scooter since they first appeared in Los Angeles in September 2017, and internationally, programs have popped up in Australia, Latin America, Israel, and Europe. As Chicagoans join in on the e-scooter movement, the personal injury attorneys at Zneimer & Zneimer advise pedestrians and drivers alike to remain alert for new riders getting used to the system. Call our office any time at 773-516-4100 for a free consultation for serious injuries caused by e-scooters.
Sources:
https://chicago.suntimes.com/2019/6/11/18661876/electric-scooters-chicago-10-vendors-bird-bolt-gruv-jump-lime-lyft-sherpa-spin-veoride-wheels
https://chi.streetsblog.org/2019/06/20/chicago-scooters-are-fine-twitter-feed-takes-a-glass-half-full-approach/
http://www.austintexas.gov/edims/pio/document.cfm?id=318777&utm_source=CNN+Five+Things&utm_campaign=0ef7d90e10-EMAIL_CAMPAIGN_2019_05_02_10_13&utm_medium=email&utm_term=0_6da287d761-0ef7d90e10-82987861