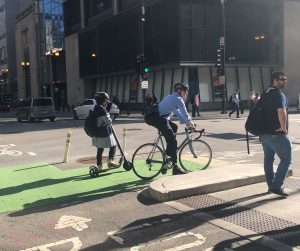 A new transportation trend is popping up in cities around the world. E-scooters are considered viable alternatives to other, less environmentally conscious ways to get around town. But the attorneys of Zneimer & Zneimer, P.C., want to know how these scooters are being embraced by city-dwellers and visitors alike. Chicago created an e-Scooter Pilot Program, which gave permits to ten companies to test the viability of e-scooters as a mobility option and "was designed to maximize safety and minimize sidewalk clutter" within its city limits.[i] The pilot program lasted from June 15, 2019 to October 15, 2019 and reported over 800,000 rides.[ii] The city released an evaluation report to determine the impact of emerging scooter technologies on communities, the safety of residents and riders, and on existing transportation. The report showed that "nearly half of the scooter rides started or ended near public transit with the survey confirming 34 percent of riders used the scooters to connect to public transit."[iii] Scooters are not only a convenient means of transportation, but they are also better for the environment. In fact, "[i]n the four-month pilot period, the e-scooters eliminated approximately 300,000 miles of vehicle travel, equivalent to approximately 116 tons of CO2."[iv] Yet, e-scooters are not completely carbon neutral. North Carolina State University conducted a study that found each e-scooter contributes 50 to 200g of CO2 per mile.[v] While e-scooters are helping Chicago reduce its carbon emissions, more work needs to be done if the city wants to reach its goal to be carbon neutral by 2050.
The E-Scooter Pilot Evaluation also brought other issues to light, including accessibility and durability of the E-scooters. The executive summary from Chicago's Business Affairs & Consumer Protection and Department of Transportation states, "Ridership was geographically concentrated in areas with a high density of other options such as Divvy, bus and rail, rather than in areas with fewer options. Analysis of the data also indicates that the jury is still out on whether e-scooters connect riders to public transit or replace private car or ride-hailing trips. More work also needs to be done to lower the environmental impact of the short life cycle of e-scooters."[vi] E-scooters, while praised for their environmental sustainability benefits, need to be more sustainable in their design. NC State University also looked into this issue in its study, which found that a scooter's life cycle produced emissions even before it hits the street. These emissions derive from "the production of the materials, like the lithium-ion battery and aluminum parts; the manufacturing process; shipping the scooter from its country of origin (mainly China) to its city of use; and collecting, charging, and redistributing scooters as part of the dockless service."[vii] As e-scooters become more technologically developed, these durability concerns should diminish.
Chicago is a "Leadership City" in the American Cities Climate Challenge, a program designed by Bloomberg Philanthropies to reduce carbon pollution and deepen public support for a sustainable future.[viii] As a participant of the program, Chicago has pledged to reduce carbon emissions, including implementing changes within the city's transportation and building sectors, and e-scooters seem to be helping. The city has recommended a second e-scooter pilot program to launch in 2020, where it can "implement lessons learned and test new solutions with a goal of identifying ways to expand access to safe, reliable and equitable mobility options for Chicago residents."[ix]
While some of us ride these e-scooters to take nostalgic trips back to our childhood, others use the scooters as a convenient method to get around quickly. Either way, the increasing number of riders overwhelmingly wants to see the e-scooter program expanded – 86% of users say they want expansion, compared to 21% of non-users.[x] So for any Chicagoans who have yet to ride an e-scooter, don't worry, the Windy City will see more scooters in 2020.
[i] https://www.chicago.gov/city/en/depts/cdot/supp_info/escooter-share-pilot-project.html
[ii]https://www.chicago.gov/content/dam/city/depts/cdot/Misc/EScooters/Scooter_Evaluation_Executive_Summary_1.29.20.pdf
[iii] https://www.nrdc.org/experts/stefan-schaffer/city-chicago-releases-e-scooter-pilot-evaluation
[iv] https://www.nrdc.org/experts/stefan-schaffer/city-chicago-releases-e-scooter-pilot-evaluation
[v] https://www.nrdc.org/experts/stefan-schaffer/city-chicago-releases-e-scooter-pilot-evaluation
[vi]https://www.chicago.gov/content/dam/city/depts/cdot/Misc/EScooters/Scooter_Evaluation_Executive_Summary_1.29.20.pdf
[vii] https://www.theverge.com/2019/8/2/20751610/scooters-electric-dockless-carbon-emissions-study-life-cycle-analysis
[viii] https://www.bloomberg.org/program/environment/climatechallenge/#overview
[ix] https://www.chicago.gov/city/en/depts/cdot/supp_info/escooter-share-pilot-project.html
[x] https://www.nrdc.org/experts/stefan-schaffer/city-chicago-releases-e-scooter-pilot-evaluation