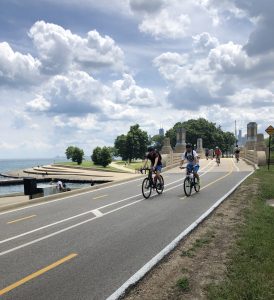 Bicyclists in Chicago face a lot of perils as they navigate the city streets.  Despite Chicago's claim that it supports biking, the city does not do enough to protect bicyclists from danger.  Even on painted bicycle paths, bicyclists face many threats.  Squeezing in between parked and moving cars, cars turning right and left, car doors opening in bicyclists' faces, meandering around various-sized potholes –  are all risks facing bicyclists in Chicago.  The Chicago personal injury law office of Zneimer & Zneimer helps many injured bicyclists each year.
Chicago boasts a Lakefront Trail, a shared path with pedestrians, roller skaters, and bicyclists along the lake. Biking there is not free from hazards.  Bicyclists face the dangers of colliding with other bikers, roller skaters, or pedestrians or falling because of cracks and potholes.
Injuries on the Lakefront Trail happen.  If a person suffers injuries there, the question is who pays for the medical bills, lost time from work, and any permanent damage that the injured biker may suffer.  Unlike a car-vs-bicycle collision where a car must have liability insurance, people using the shared path do not have to have insurance.   When a bicyclist gets injured because the path has a crack or a pothole, injured bicyclists can sue the Chicago Park District that maintains the path.  However, plaintiffs have a heavy standard to meet and show that the Chicago Park District was willful and wanton in its failure to maintain the path.
In a case involving the Lakefront Trail, a bicyclist got caught in a crack in the pavement and he fell.  The plaintiff sued the Chicago Park District, alleging that it had acted willfully and wantonly in failing to maintain the path in filling the crack right away. Therefore, the plaintiff alleged, the Chicago Park District was responsible for his injuries resulting from his fall. Continue reading