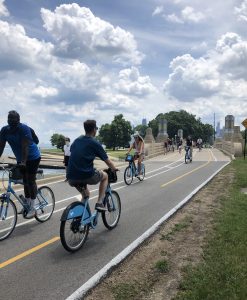 With many Chicagoans flouting the shelter-in-place restrictions order issued late March of this year, Mayor Lightfoot had to force compliance by closing the Lakefront Trail , the popular 606 Trail and the Riverwalk in an effort to decelerate the  Covid19 outbreak and ease the strain on the city's healthcare system. This decision was met with dismay and eventually, resignation by both avid joggers, bikers and avid walkers alike who favored these trails for their scenic and somewhat secluded routes. Now, as part of Chicago's re-opening phases, the Lakefront and 606 Trails are open once again for business but with constraints attached. People are not allowed to dawdle and are required to be in constant motion whether they are walking, running or biking.
All together the Chicago Lakefront trail is 19 miles of abundant beauty and easy accessibility. It begins at the south end of the South Shore Cultural Center and ends the northern Kathy Osterman Beach. It is a haven for many wanting to take a leisurely stroll or get solid exercise. Nevertheless, personal injury attorneys at Zneimer & Zneimer, P.C. know that it is not uncommon for accidents to happen on certain stretches of the trail where it is especially congested and where Lake Shore Drive converges with parts of the trail that have little to no guardrails installed. Last year in June, a car swerved off Lake Shore Drive close to the entrance of the Diversey Harbor, landing on the bike path. The vehicle operator was critically injured; fortunately, there were no bicyclists on the bike path. One always hear that lightning never strikes the same place twice but two months prior, a fatality occurred in the same area. The man died from injuries sustained after his vehicle collided with the guard rail and then a hitting a concrete light pole.
Amateur joggers, cyclists or walkers are probably unaware that this particular area of the trail is dangerous and now that the trail has re-opened there is always the frightening chance these accidents happen and cause fatalities. Personal injury lawyer Peter Zneimer knows that despite the long-awaited re-opening of the Lakefront trail, much of it still poses as a hazard for many and safety should be a priority no matter your role in the story.