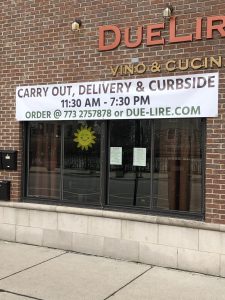 Illinois state officials expressed concern in early April as the weather starts to improve and people take to the city seeking fresh air outside of their homes. As COVID-19 continues to shut the country down and the warm weather entices people to go outside, Chicago police officers have conducted roadside checkpoints from April 7 to April 9 between 10 p.m. and 2 a.m. in each police district, lasting for about 45 minutes per the Chicago Police Department, for drivers on the roads in the Chicago area. These checkpoints were set up to provide information to motorists about the stay-at-home order in effect until April 30, as well as to check for drivers under the influence and other traffic safety issues. Each driver that went through the roadside checkpoint was given a flyer providing information about the Illinois stay-at-home order. This is an important step by Chicago police to help educate the public on what is currently being done for them regarding COVID-19 as well as providing any useful tips to help minimize exposure and ultimately help flatten the curve.
The important thing to note with these roadside safety checkpoints, however, is that travel is not banned in the state of Illinois, and there are designated activities that residents are allowed to engage in that involve travel. In fact, there is a specific list provided by the state of Illinois that lets all people in Illinois know what the rules are when it comes to what defines an essential reason. According to state officials, essential reasons include: performing essential activities, governmental functions, business and operations; caring for elderly, minors, dependents, persons with disabilities or other vulnerable people; receiving materials for distance learning, receiving meals and any other related services from an educational institution; returning to a place of residence from outside of jurisdiction; following the direction of law enforcement or court order, including to transport children pursuant to a custody agreement; and returning to a place of residence outside the state for non-residents. The important take away is that as the stay-at-home order continues, some travel is still allowable meaning that people are still on the roads and accidents can still happen. If you have an essential reason to be on the roads during this time period you are allowed to travel, but use extra caution as drivers attempt to return to normalcy.
As the weather gets nicer and people begin to settle into their homes for the foreseeable future, it is inevitable that people will eventually need to get behind the wheel of a vehicle for supplies and other essential activities. Even though police are cracking down on those who are engaging in non-essential travel, cars will still be on the road and accidents will still happen. Whether it's to go to the grocery store, the pharmacy, or whether it's the delivery order coming to your house, people are going to continue driving through this quarantine.  The lawyers of Zneimer & Zneimer, P.C.,  know based on our experience as personal injury attorneys in the Chicago area that even with less than normal traffic accidents can still occur.
Sources:
https://www.nbcchicago.com/news/local/driving-in-illinois-allowed-for-essential-travel-only-chicago-police-stress/2252526/